DD Bios
Bob Dorger
Lead Agent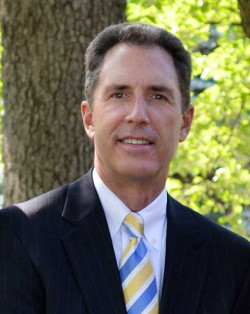 Bob Dorger has been a residential Realtor since 2004, and has achieved a standard of excellence which has benefited hundreds of buyers and sellers. Bob and his team, the Dorger Difference, continuously strive to exceed fulfilling each client's expectations. As a lifelong resident of Cincinnati, he shares with his clients, an in-depth, city-wide knowledge of the real estate market.
Bob attended St. Xavier High School and Xavier University. His career path includes corporate positions with Toyota Motor Corporation. He also founded an internet marketing consulting company, Netrevenues, Inc. It was a natural transition when Bob became a Realtor with Comey & Shepherd Realtors. His father was a respected custom home builder and his mother retired after 20 successful years as a Cincinnati Realtor with Comey & Shepherd. Bob and Mary have been married 29 years and their love of family – which includes their four children, son-in-law and two grandchildren – is always front and center. When Bob's busy schedule allows, he enjoys golf and paddle tennis and is an avid Cincinnati sports fan. He gives back to the community by supporting JDRF and holds a board position with the Karen Carns Foundation.
Bob's real estate achievements include:
Recognition as Comey & Shepherd's Rookie of the Year (2004)
Year-after-year, recognition as a Comey Top 10 Sales Leaders
Cincinnati Area Board of Realtors' Circle of Excellence: 2004-2015
Ohio Association of Realtors President's Club: 2004-2015
Comey & Shepherd's President's Club: 2004-2015
Five Star Real Estate Professional: 2004-2015
---
Mary Dorger
Realtor®
Mary Dorger became a licensed Realtor in 2012, at which time she joined the Dorger Difference. Like Bob, Mary is a lifelong Cincinnatian. She attended Ursuline Academy and the University of Cincinnati. As a mother of 4 she loved raising her family and managing her business, Priceless Jewelry, for years. Family is still Mary's first priority and now includes her 2 grandchildren. She has a background in interior design and has a natural eye for home staging. She further developed these skills working for House of France – a premiere retailer of home furnishing and design. This expertise is invaluable when working closely with sellers to prepare their home for the market, and buyers when envisioning their personal tastes when touring houses for sale.
---
Paige Dorger
Realtor®
Paige Dorger was born and raised in Cincinnati and joined the Dorger Difference as a Realtor in 2015, bringing a fresh millennial perspective to the team. She attended St. Ursula Academy and attained her marketing and psychology degree at the Miami University of Ohio. Her career in Washington D.C. established her expertise in property leasing and management. Paige's comprehensive business skills were acquired with her Executive Assistant position for the CFO, CMO and GC of a Chicago based national marketing firm. Her corporate adeptness dovetails perfectly with the business model of the Dorger Difference, and she works closely with both buyers and sellers. Paige lives in Hyde Park where she enjoys an urban lifestyle and community diversity. She is a sports enthusiast, enjoys the outdoors, and loves to travel.
---
Maddie Hartman
Licensed Assistant
Maddie Hartman joined the Dorger Difference in 2014, and expanded her work and interaction with clients later that year when she became a Licensed Assistant. Maddie is a lifelong resident of Cincinnati where she graduated from Mt. Notre Dame & the University of Cincinnati. Her degree in Communication and 11 years as Assistant to the Vice President & Executive Director of Aveda, has honed her extensive administrative expertise. This has been a key component for her business and marketing management of the Dorger Difference. The Hartmans call Sharonville home and enjoy raising their two little boys. In addition to her dedication to job and family, Maddie is an avid runner and enjoys boating.
---
Ann Wilburn
Transaction Coordinator
Ann Wilburn has worked with Comey & Shepherd Realtors for 17 years; 6 of those years as a Transaction Coordinator. Upon acceptance of a contract to purchase, Ann handles a host of time sensitive contractual details, helping to assure a successful closing. As a Transaction Coordinator, she strives to keep all parties informed every step of the way. Ann's professionalism and expertise are valuable additions to the extensive services the Dorger Difference team provides their clients. Like the rest of the Dorger team, Ann has been a longtime resident of Cincinnati. She and her husband raised their family in Anderson and continue to call Anderson their hometown.